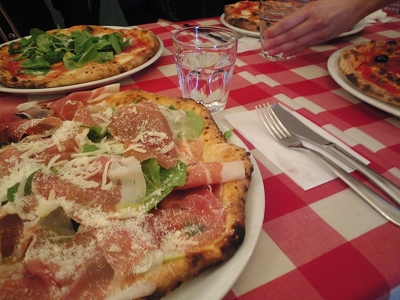 Already established as one of the best pizzerias in Fukuoka, Pizzeria Little Napoli, located not in the city center but in the east part, Higashi-ku, which faces the Kashi-Sando street.
The atmosphere of this small pizzeria with 8 tables (16 seats) is nice because of the hospitality of the cook (who got trained in the Gaetano, Napoli) and his wife, and also because of the huge shady Japanese cinnamons (Kusunoki) planted along the street.
Lunch time on Saturdays and Sundays is the busiest time.
The photo shows my favorite Biancaneve (1600 yen).
They started value lunch, too (1000 yen---).
They newly start an Italian lesson.
2012/2/17 (Fri)
11:00-12:00 Italian lesson for begginers (two Italian teachers from Centro Italiano di Fukuoka)
12:00- Lunch: pizza with a drink
Cost: only 1500 yen (including lesson fee and lunch)
Little Napoli: 092-662-4872
Monday holiday
スポンサーサイト